Welcome to the Weekly Market Update!
In this edition, we bring you the latest highlights and insights from the world of finance and economics. We cover a range of topics, including stock market fluctuations, cryptocurrency surges, central bank actions, market analysis, upcoming events to watch, and technical analysis of key currency pairs and commodities.
Top Stories of the Week
Airbus Secures Record Plane Order:

IndiGo placed a record order of 500 planes with Airbus at the Paris Airshow, signaling a resurgence in demand post-pandemic.

Tesla's Stock Drops by 5%:

Barclays downgraded Tesla's stock, suggesting it was time to realize profits after its substantial price increase.

Bitcoin Surges by 15%:

News of institutional players like Blackrock venturing into cryptocurrency contributed to Bitcoin's rise to a monthly high.

USD/CAD Reaches 9-Month Low:

Stronger-than-expected retail sales in Canada led to a rally in the Canadian dollar, fueling speculation that the Bank of Canada may continue raising interest rates.

Federal Reserve Chair Powell's Congressional Testimony:

During his bi-annual testimony before Congress, Powell warned that interest rates might remain elevated for longer to control inflation.
Market Analysis
Stocks End Winning Streak as Major Indicators Retreat:

The winning streak for stocks ends as major indicators close lower. The Nasdaq Composite experiences its first weekly decline in two months, while the S&P 500 records its first drop in six weeks. Growth stocks outperform value shares, and large caps fare better than small caps.
Economic Highlights
UK Inflation Surges, BoE Raises Rates:

UK inflation remains persistently high at 8.7% YoY, defying expectations and leading the Bank of England to implement a larger-than-expected interest rate hike of 50 basis points, raising the rate to 5%.

China's Rate Cut Supports Growth:

The People's Bank of China implements a rate cut, lowering the primary loan rate by 10 basis points. This action follows previous short- and medium-term cuts, reflecting the central bank's concerns about the pace of economic recovery and its commitment to supporting growth.
Upcoming Events to Watch
Eurozone CPI:

Monitor Eurozone inflation data for potential impact on interest rate projections and actions by the European Central Bank.

Australian CPI:

Keep an eye on Australian consumer price index data for insights into future rate hike expectations and potential effects on the Australian dollar and ASX 200.

US Banks Stress Test:

Watch for results of the Federal Reserve's stress test to assess major US banks' resilience and capital levels.

US Q1 GDP:

Look out for the US GDP report to gauge economic growth, particularly in private consumption and inventory investment.
Technical Analysis
We have analyzed the most popular trading pairs and assets, including EUR/USD, GBP/USD, Gold, and US500. Our aim is to provide you with an insightful analysis of their trends and support/resistance levels, which will help you make informed decisions.
EUR/USD
The EUR/USD pair is currently in an uptrend, trading above the 50-day simple moving average (SMA). The price is approaching the psychological level of 1.10, which could determine a potential reversal. Confirmation of the uptrend requires a close above 1.10 or a close below 1.091 to indicate a larger pullback.
---
GBP/USD
The GBP/USD pair is in an uptrend, trading above the 50-day SMA. Price action is consolidating below 1.282 after breaking out above 1.265. The uptrend remains intact as long as the price remains above 1.25.
---
XAU/USD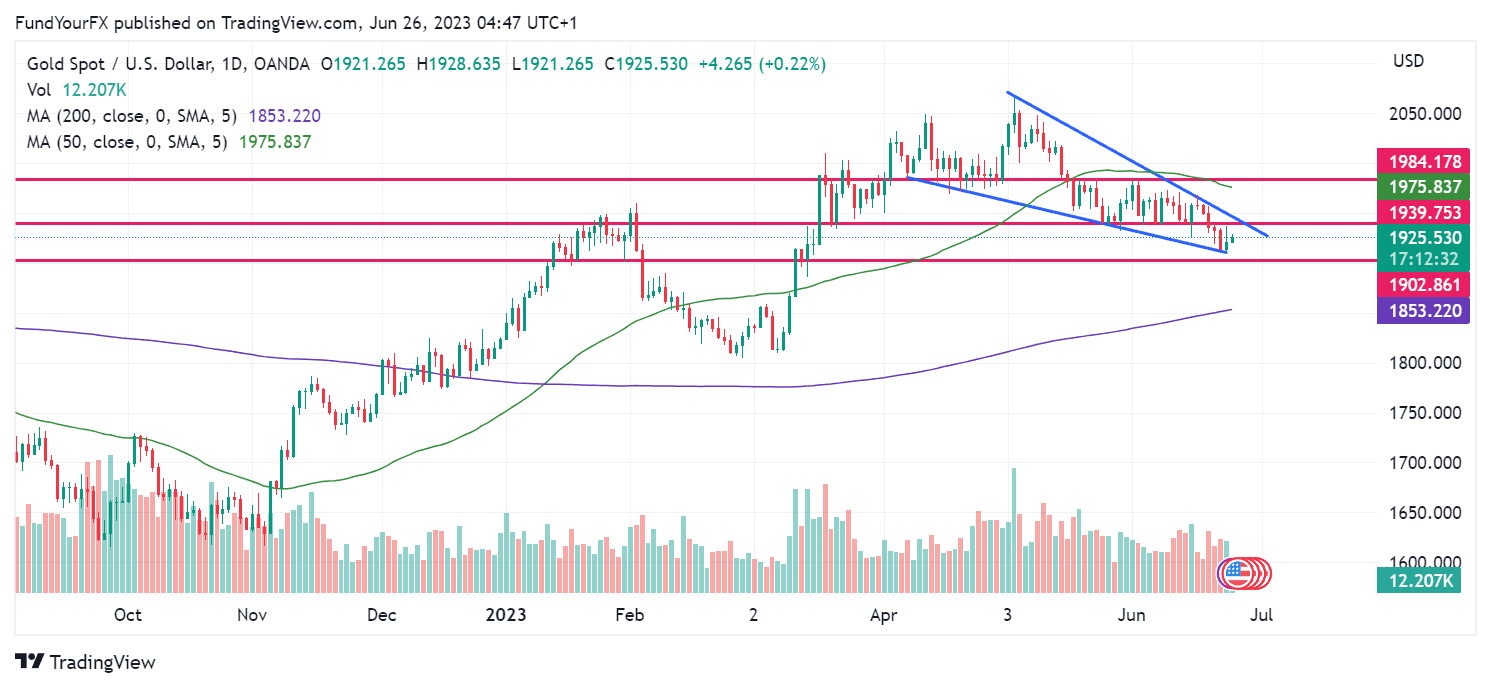 Gold is currently in a sideways trend and trading below the 50-day SMA. The price has broken down below key support at 1930, with support levels at 1900 and then 1862. To shift the sentiment to a more bullish outlook, a break back above 1945 is required.
---
XUS500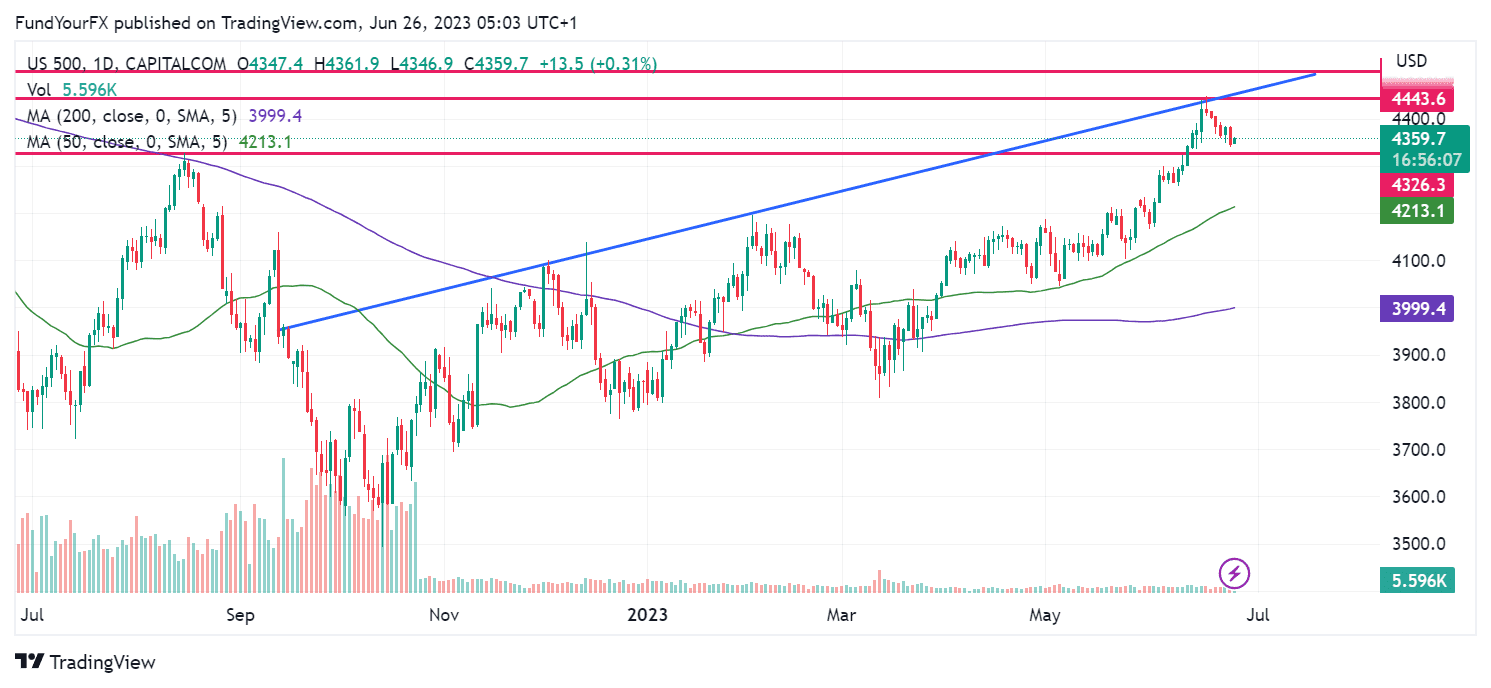 The US 500 index is in an uptrend, making higher highs and lows above the 50-day SMA. The pullback offers an opportunity to bulls. Support levels can be found at 4330 and then 4282, while the next significant upside target is at 4500.
Thank you for reading! Wishing you successful trades ahead!
---
Unlock your trading potential with FundYourFX, the award-winning instant funding prop firm. Experience real funding from day one, flexible trading rules, and profit share of up to 70%. Visit FundYourFX now and start achieving your trading goals today!