Welcome to the Weekly Market Update!
In this edition, we bring you the latest highlights and insights from the world of finance. We will cover the week's top stories, provide market analysis, highlight economic developments, discuss upcoming events to watch, and present technical analysis. Let's delve into the key information you need to stay informed and make informed financial decisions.
Top Stories of the Week
Dollar Dominates Amid Downgrade:

Despite the US rating drop, investors turned to the dollar for safety, triggering an ironic surge.

Dow's Near-Record Streak:

Dow narrowly missed a record 14-day consecutive rise.

S&P 500 Gains in July:

The S&P 500 rose 3.1% in July as market sentiment improved.

Gold Slips Below $2000:

USD strength pushed gold below $2000, impacting its value.

Nintendo's Profits Soar:

Nintendo's profits surged by 50% after the Mario Brothers Movie release, delighting investors.
Market Analysis
Soaring US Interest Payments:

The US interest payment scenario is concerning, with a staggering 50% surge. Net payments on the national debt climbed from $352 billion in 2021 to a record $475 billion in 2022. This translates to 1.9% of GDP, the highest in over two decades. The mounting figure, now nearly $1 trillion, raises serious doubts about sustainability, particularly during a potential recession. A similar dilemma is faced by individual consumers, who can relate to higher expenses amidst reduced income. The broader economy faces comparable risks if left unaddressed.
Economic Highlights
Fitch Ratings downgrades US credit rating from AAA to AA+, citing ongoing governance decline. The downgrade reflects concerns stemming from recent political events, including the January 6 insurrection. While discussions on debt ceiling prompted risks of default, the overall erosion of governance standards over two decades also contributed. The impact is far-reaching, affecting mortgage rates, global contracts, and potentially leading to increased yields. This rating cut could prompt investors to sell US Treasuries, influencing interest rates on various loans. Fitch's move underscores the pressing need for improved fiscal management and governance practices to maintain economic stability.
Upcoming Events to Watch
US CPI Data (Tue, 8th August):

Further decline in July's consumer prices expected, influencing Federal Reserve's rate hike stance and USD sentiment.

UK Q2 GDP Report (Fri, 11th August):

Amid Eurozone growth comparisons, focus on UK's recession risks, high inflation, and GBP implications.

China Inflation (CPI + PPI) Figures (Mon, 9th August):

Impact on AUD/USD and broader markets; signals weakness in the second-largest economy.

Disney Q3 Earnings (Tue, 10th August):

Disney's stock performance, earnings outlook, and comparisons with other tech giants in focus.

Alibaba Q2 Earnings (Thu, 12th August):

Earnings impact on Alibaba's recovery and its spin-off Ant Group; Beijing's tech giant policies influencing stocks.
Technical Analysis
We have analyzed the most popular trading pairs and assets, including EUR/USD, GBP/USD, Gold, and US500. Our aim is to provide you with an insightful analysis of their trends and support/resistance levels, which will help you make informed decisions.
EUR/USD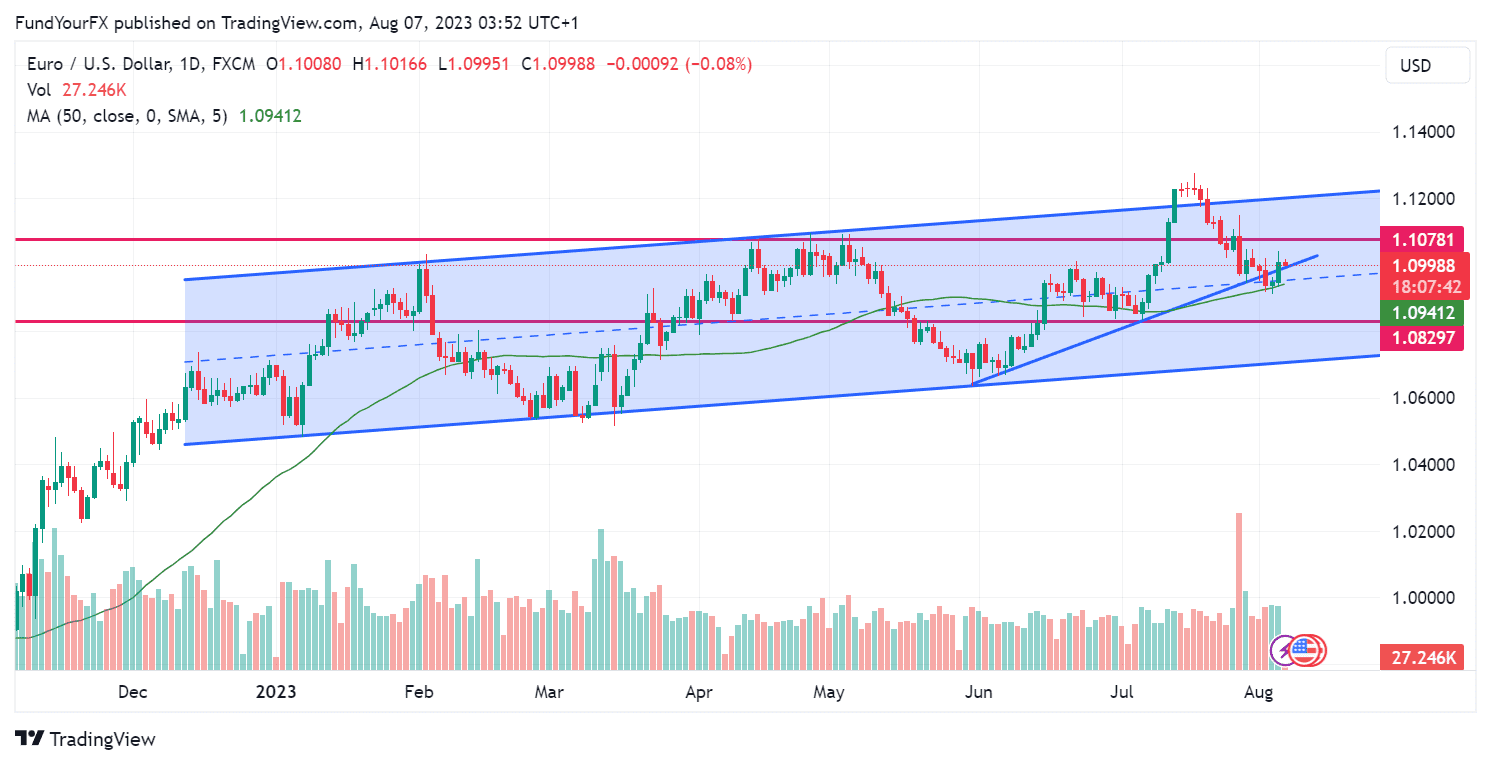 After months of a robust uptrend, signs of a possible reversal loom. While higher highs and lows persist, recent support resilience, coupled with the intact 100 and 200 EMAs on daily charts, suggests a temporary hold. The aftermath of a bearish engulfing candle triggered a price dip, cushioned by the 50 SMA. A breach below 1.09, then June's lows, might mark an uptrend-to-downtrend shift.
GBP/USD
GBP/USD's weak uptrend shows a lower high and low, staying above the 50 SMA. Despite slipping below this average, a hopeful bullish hammer pattern formed near 1.26 support. Staying above current levels is key to prevent a downward trend. Traders may ponder buying pounds and selling dollars, especially if US CPI and UK GDP data affect the Fed's rate hike plans. A weaker CPI might mean fewer rate hikes, potentially impacting the dollar's strength.
XAU/USD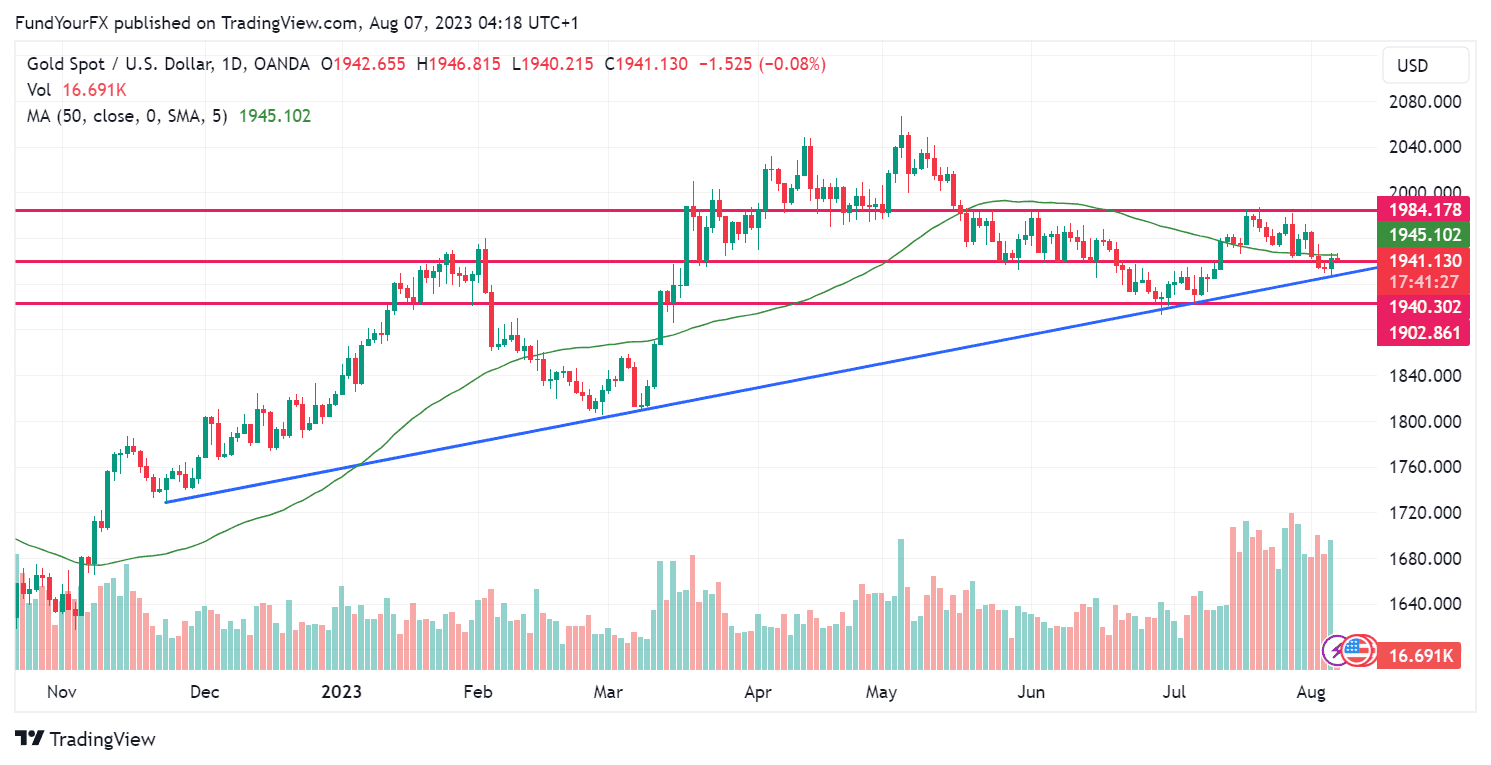 XAU/USD is currently moving sideways. After reaching 1987.53, the price decreased. Notably, last week's price action near a significant support level indicates a possible re-test of the recent peak. Although gold couldn't surpass resistance at 1980, a lower high and low below the 50 SMA suggest a decrease.
XUS500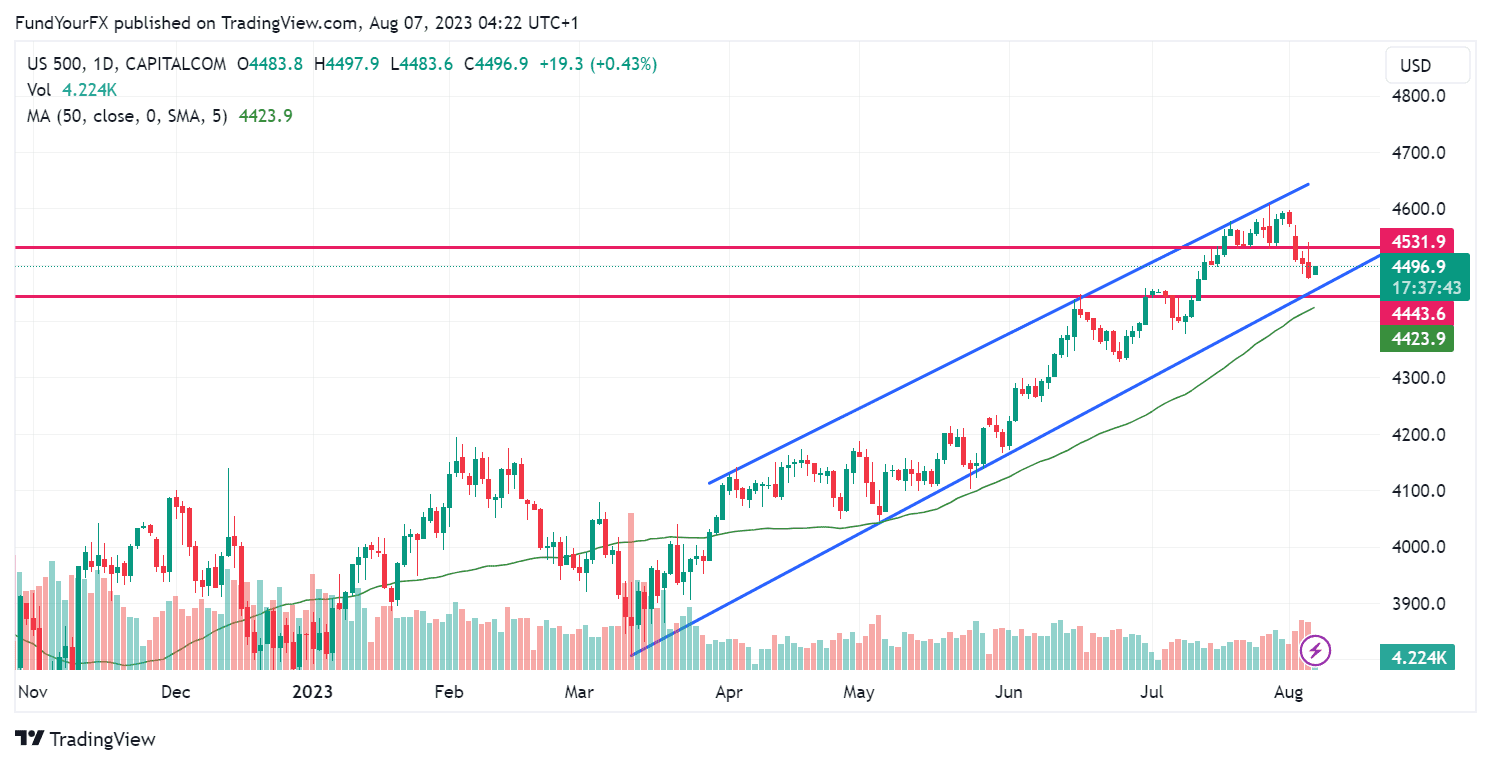 XUS500 is going up, making higher highs, though with one minor low above the 50 SMA. It's now correcting from 4600, forming a new lower low. For now, the trend is good as long as it stays above 4400 (the 50 SMA) and 4470 (matching highs).
Thank you for reading! Wishing you successful trades ahead!
Unlock your trading potential with FundYourFX, the award-winning instant funding prop firm. Experience real funding from day one, flexible trading rules, and profit share of up to 70%. Visit FundYourFX now and start achieving your trading goals today!