Welcome to the Weekly Market Update!
In this edition, we bring you the latest highlights and insights from the world of finance. We will cover the week's top stories, provide market analysis, highlight economic developments, discuss upcoming events to watch, and present technical analysis. Let's delve into the key information you need to stay informed and make informed financial decisions.
Top Stories of the Week
USD Experiences Minor Downturn:

Soft US inflation data resulted in a modest decline for the US Dollar (USD), causing the Euro (EUR) and other major currencies to make slight gains against it.

Silver Sees Decline:

Silver (XAG) faced a continuous slump over four consecutive days, yet it maintained a relatively stable position around the $24 range.

Disney's Earnings Performance:

Despite Disney+ Streaming Subscriptions falling short of expectations, Disney's stock experienced an increase following an unexpected price hike announcement.

Alibaba Surpasses Expectations:

The prominent Chinese retail giant, Alibaba, exceeded projections with its highest revenue figures since 2021.

PayPal's Crypto Endeavor:

PayPal (PYPL) has unveiled its proprietary 'stablecoin' in competition with Tether and USDC, marking its foray into the world of cryptocurrency.
Market Analysis
Yen's Potential Rise Amid US Rates:

'Mr Yen' Eisuke Sakakibara forecasts the Japanese yen could surge to 130 against the US dollar by year-end. US rate peaks and Japan's economic upturn are seen as drivers. Despite past interventions, authorities are unlikely to interfere, allowing market forces to shape the yen-dollar dynamics. Yen stability near 142 follows a 7.5% drop this year due to attractive short-selling opportunities. As the US Federal Reserve adjusts, Sakakibara projects a gradual rise to 120 in the next few years, marking a significant shift in dollar-yen dynamics and potential comfort for Japan's government.
Economic Highlights
China's Economic Concerns:

China's economy faces multiple challenges. Deflation risks arise as consumer prices drop by 0.3%, presenting a concern due to its debt load. The People's Bank of China confronts deflation while managing its debt-heavy economy. Additionally, China's foreign investment hits a 25-year low, impacted by state control and politicization of firms. Ailing real estate, a key sector, exhibits price declines, eroding consumer confidence. The demographic impact of the one-child policy causes a shrinking workforce and aging population. These issues contribute to a projected rocky decade ahead, with potential growth restrained at around 3%, far from past achievements.
Upcoming Events to Watch
FOMC Minutes (Wed, 16th August):

Anticipate insights from the Federal Reserve's post-rate hike meeting minutes. Despite predating July's inflation, these details shape USD ahead of the late September Fed meeting.

RBNZ Rate Decision (Wed, 16th August):

As NZD/USD tests 2023 lows, focus turns to RBNZ's rate stance. A hold could impact the currency pair's dynamics.

Walmart Earnings (Thu, 17th August):

Q2 earnings wrap up with retail giant Walmart. A benchmark for the US consumer and economy, its performance indicates broader trends.

Tencent Earnings (Wed, 16th August):

Amid eased tech tensions, Tencent's earnings potential rises. Yet, influenced by China's economic landscape, gains could face a cap.

Eurozone GDP:

Amid ECB rate hike, EURUSD decline sparks due to Eurozone economic concerns. Robust GDP figures could counter these doubts, potentially boosting the euro as fewer rate hikes are challenged.
Technical Analysis
We have analyzed the most popular trading pairs and assets, including EUR/USD, GBP/USD, Gold, and US500. Our aim is to provide you with an insightful analysis of their trends and support/resistance levels, which will help you make informed decisions.
EUR/USD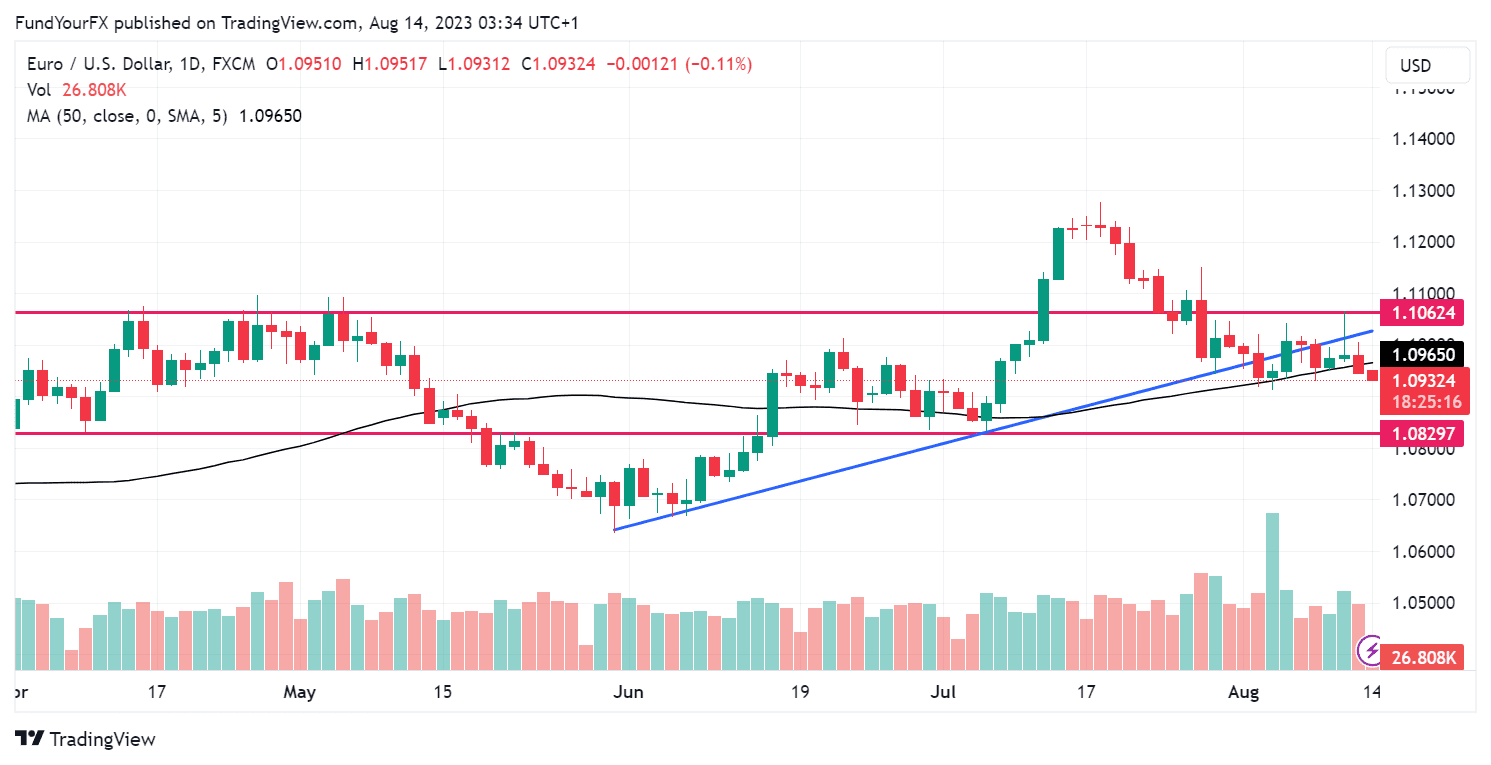 The EUR/USD pair is showing a Bear Flag pattern at the start of the week. It shows a fragile uptrend, marked by two lower highs and one lower low, even though it's still above the 50-day Simple Moving Average (SMA). The price recently dropped significantly from resistance at 1.106, but it managed to find support around the 50-day MA. The next support area is around 1.08, but if the price falls below the moving average, it might signal a shift in the trend. On the other hand, if the price closes above 1.10 again, it suggests the uptrend could continue.
GBP/USD
The GBP/USD pair is following a new downward path, showing lower lows and lower highs. Currently, the pair is facing a complicated situation due to the Bank of England's choice to increase interest rates in response to rising inflation. Starting from 1.28 and briefly touching a 2-week high, the price has dropped and is now testing the support level at 1.265. The momentum downward is picking up, making a breakdown at this point seem probable.
XAU/USD
The XAU/USD pair is currently in a downward trend, marked by lower lows and lower highs while staying below the 50-day Simple Moving Average (SMA). During the past week, gold faced its second consecutive substantial weekly loss, dropping around 1%. This decline followed reports on inflationary pressures from the US consumer price index (CPI) and producer price index (PPI). Gold's strength diminished as it fell below the 50-day Dynamic Moving Average (DMA). It's currently within a broader sideways price range, fluctuating between 1900 and 1980.
XUS500
By the week's close, the XUS500 was exhibiting a bearish trend. The price has managed to stay above a support level created by the June highs at 4450. The presence of the 50-day Dynamic Moving Average (DMA) just slightly below is also maintaining the upward direction. Looking ahead, the next support level is close to 4400. A drop to this point could potentially indicate a shift in the trend direction.
Thank you for reading! Wishing you successful trades ahead!
Unlock your trading potential with FundYourFX, the award-winning instant funding prop firm. Experience real funding from day one, flexible trading rules, and profit share of up to 70%. Visit FundYourFX now and start achieving your trading goals today!